Affirmation of Unity
There is only one Presence and one Power in my life and in the Universe -- God the Good, Omnipotence.
Renaissance Unity's Vision
We envision an inclusive world, where minds, hearts, and hands are connected in raising the global consciousness of love.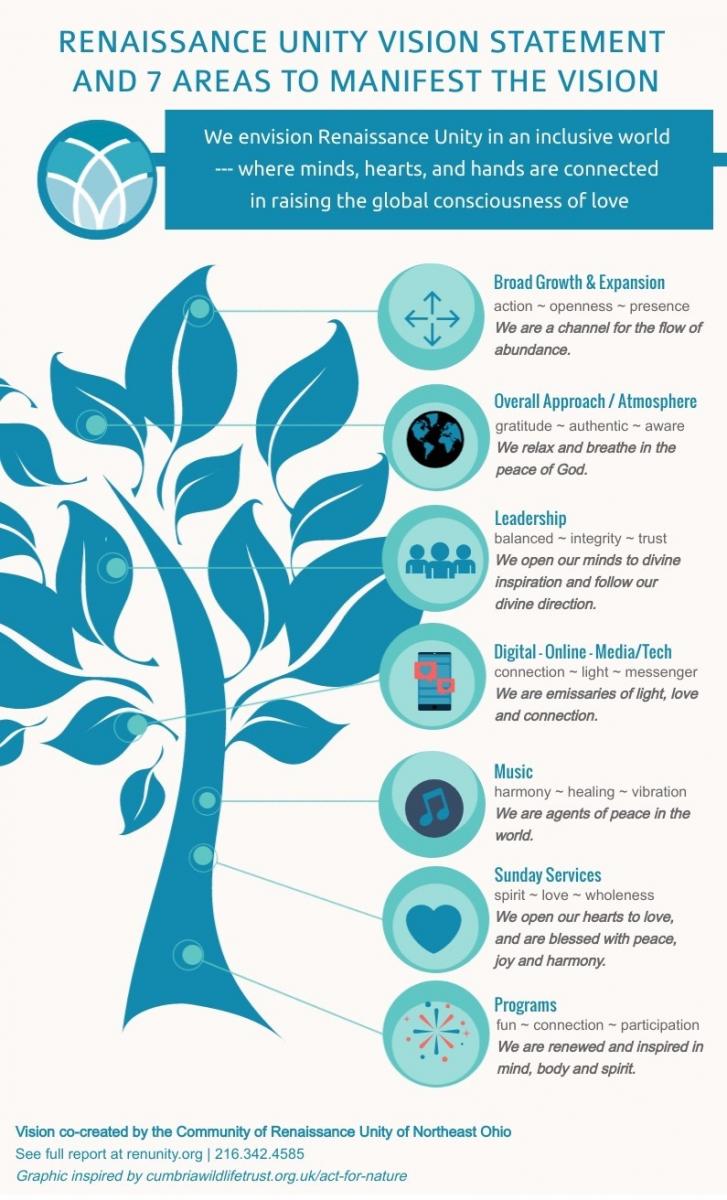 Renaissance Unity's Mission
Transforming lives through a consciousness of love.
Our Values
Unity is a center of spiritual light for people of the world. We are dedicated to letting this light shine so brightly that people become more aware of their spiritual nature and express it in their daily lives.  We address physical, mental and emotional needs through affirmative prayer and spiritual education.  We serve those who seek inspiration and prayer support as well as those who use Unity teachings as their primary path of spiritual growth. Click here to learn more about Unity's principles and teachings.
Our 2023 Theme: "RIGHT PLACE, RIGHT TIME"
Our Transformation Affirmation
Our members, congregation and guests are joining together embracing an exciting transformation of Renaissance Unity in cooperation with our inspiring Spiritual Leader, Rev. David Byrley. Our strategic initiatives for 2023 include Conscious Parenting, A Healing Consciousness and the act of simply gaining a full "awareness of love's presence" in a person's life(e.g., A Course in Miracles/A Course of Love).
Our Transformation Prayer
Change is a constant of life and growth is a constant of change. What began with a prayer circle in 2007 has grown into a loving,vibrant spiritual community called Renaissance Unity. We have moved through different phases and experienced different phases and spaces throughout our 15 years showing resilience and resolve.
We remain centered in your love and empowered in your truth. We are one in you, with you and expressed through you. You are source and all things are possible with you -- our ability to create reality is infinite. Centered in this truth, we come together at Renaissance Unity with love and faith as our core.  
We give thanks for our Spiritual Leader, who is aligned the The Universal Christ, with the current RU congregation, and those who are finding their way to us. We continue to transform lives through a consciousness of love. We welcome new musicians who provide us with creativity and inspiration and new staff members who firmly support our foundation through skill and spiritual principle. In the infinite realm of manifestation, we open our doors, widen our circle, and co-create an inclusive world where minds, hearts and hands are connected in raising the global consciousness in love.
Thank you God, and so it is...Amen.